Merchant Funding
Quick and Flexible Small Business Loan Alternatives
First Merchant Payment Systems is an industry leader in providing small businesses the financing they need quickly and easily, regardless of credit. Our Total Deposit Advance (TDA) and Credit Card Advance (CCA) are the perfect funding options for small businesses that need money fast, have limited fixed assets, have variable/seasonal revenue flow, or have been turned down by a bank. Find out what we can do for you.
We pride ourselves on being able to offer small business owners the financing they need to expand or strengthen their business. You can receive funds for your business within a week by obtaining either a Total Deposit Advance or a Credit Card Advance – two great alternatives to traditional small business loans or equity investments.
Our years of experience have provided us with a deep understanding of small businesses. Whether you're a local Mom-and-Pop outlet, a one-person service provider, or a large multi-location chain, we have a program to suit your needs.
First Merchant Payment Systems understands that small businesses often have special situations. We have tailored our products to address challenges faced by:
Seasonal businesses: We can help you get through your low season.
Credit issues (e.g. past foreclosures, bankruptcies): We look at the big picture and can often work around these issues.
Businesses without collateral: our business loan alternatives can work for you, even if you don't own your own real estate or have inventory to put up as collateral.
What's a Business Cash Advance?
Our business cash advances convert your future credit and debit receipts into immediate cash. Repayments are based on a fixed percentage of these future receipts rather than a fixed monthly payment. Our advances are cash flow-friendly, so we don't get paid until you get paid!
How a Merchant Cash Advance Works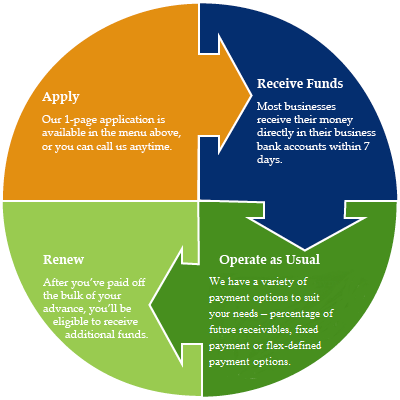 A business cash advance is an innovative form of funding that allows you to receive the working capital you need fast and pay it back flexibly. It's not a loan: you are literally selling us a portion of your future credit card sales or total deposits. We simply collect a percentage of the credit card batches or total deposits until it has collected the full amount of receivables purchased. This usually takes 6 to 15 months.
The Underwriting Process
At First Merchant Payment Systems, we use a proprietary credit model designed to streamline the entire underwriting process. We want the Application-to-Funding period to be as straight-forward and as timely as possible. Below are the underwriting stages:
Stage 1: Information Gathering (Day 1)
Submit the following information to us by either faxing it to us at (239-791-1275) or emailing us at info@fmps.com:
Our one page printable application
4 months of recent bank statements of your business account OR
4 months of credit card processing statements plus 2 months of bank statements
If you have a merchant account with First Merchant Payment Systems you do not have to supply your merchant statements.
Upon receipt, a qualified First Merchant Payment Systems representative will contact you within 1 business day to discuss your funding options.
Stage 2: Our Credit Model & Pre-Qualification (Day 1-2)
Your submitted information is then run through our proprietary credit model in order to determine if you are pre-qualified for a business cash advance. Your official pre-qualification status will be communicated to you within 2 business days. If you are pre-qualified, you will be sent a contract containing the terms of the business cash advance and continue on to Stage 3.
Key factors our Credit Model uses include:
Company's and business owner's credit history**
Length of ownership and age of business
Industry Segment
Company's historical financial performance
Company must be located in the United States
** Even if your credit is poor, you can easily qualify as long as your business is solid!
Stage 3: Contract Signature, Verification & Final Approval (Days 3-6)
When we receive your signed contract and a copy of a government-issued ID (driver's license or passport), our Underwriters will confirm the accuracy of the submitted information and follow up with you if anything further is needed. This Verification & Final Approval process is done within 1 to 3 business days. After it is completed, the funds are wired into your company's bank account!
How to Qualify
Your Business Should:
Be fully operational for at least 12 months
Process a minimum of $4,000 per month in credit card transactions or have average monthly sales of $20,000 or higher
Be located in the United States
Whether you need urgent cash to cover a temporary deficit, or you want to take your business to the next level, a working capital cash advance can help secure the future of your company. Apply now to get an answer from us within 1 business day. There are no fees of any kind, and the application will take you less than 5 minutes.
How Much Can You Get?
We fund businesses of all sizes, ranging from the smallest corner pizza shop to multi-location retail and service chains. Our minimum funding size per location is $4,000 and our maximum is $150,000.
How Can You Best Prepare Yourself to Get a Cash Advance?
Gather your recent credit card processing statements and bank statements, and make sure they're complete. If your business is seasonal, be ready to show what your volume looks like during both the high and low seasons. Make sure that you have documents that show your ownership of the business, in case there are no public documents that we can access.
If you have moved recently, be sure that you can show that there was no negative impact on the business. Think carefully about how you plan to use the funds, and how much you really need.
Why not give us a try today?