Streamline Booking Appointments so You Can Focus on Servicing Clients
With SpotOn, it's never been simpler to manage your clients. Our salon software gives you a variety of ways to book appointments that are fully integrated with your schedule, services, and rates.
Share a common online booking calendar with our booth renters at the salon while maintaining control of your own schedule and private client list
Set your schedule and create a custom menu of services you offer
Enable customers to book online appointments from the salon website and Facebook page, as well as your personal business Facebook page
Book appointments manually on your virtual dashboard for phone appointments and walk-ins
Easily track and edit appointments on your color-coded calendar
Store and access client history, including custom notes, such as their preferred shampoo
---
Accept Payments and Stay Connected to Your Customers
The SpotOn platform makes it easy to accept credit card payments on the cutting-edge Poynt terminal, while also keeping you connected to your clients so they come back for more.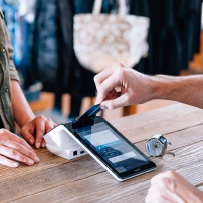 Automatically ring-up clients with the Poynt terminal to accept credit car payments with the lowest rates and no hidden fees, ever
Get credit card payments deposited directly into your bank account daily
Easily rebook clients by searching your customer list or appointment history
Effortlessly stay in contact with your clients, as your SpotOn platform automatically integrates your client information with our built-in customer engagement tools
---
Marketing Made Easy
The SpotOn platform includes built-in marketing tools that make it quick and easy to send campaigns so you stay top of mind with your clients
Upload your existing customer list and continue to expand it as you book appointments with new clients
Connect with your clients where they are most receptive, through social media, email, and mobile alerts
Send emails instantaneously to your client list with the platform's built-in campaign wizard to announce last-minute openings in your schedule or new products and services
Send time-sensitive deals to encourage visits from your clients
Create automated email campaigns targeted at specific groups of customers, including new clients, your best customers, and clients who haven't visited in awhile
---
Turn New Clients into Loyal Regulars
Turning one-time visitors into repeat clients is a proven way to increase earnings, and SpotOn makes it easy to do just that with our streamlined loyalty program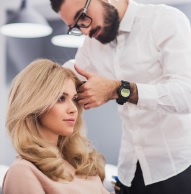 Create custom rewards such as discounts or free add-ons to encourage repeat visits from your clients and increase your earnings
Enroll customers on the Poynt payment terminal, as well as when they opt-in after booking appointments online
Choose whether your clients earn loyalty Spots by visit or by how much they spend
Streamline the check-out process with the ability to have clients check-in and redeem rewards with the SpotOn consumer app, their phone number, email, or a traditional loyalty card
Get discovered by the hundreds of thousands of shoppers already using the SpotOn consumer app
---
Access Everything from One Virtual Dashboard
Our comprehensive salon solution is compatible with computers, Chromebooks, and iPads. If you require dedicated hardware to run the platform, we are pleased to offer you a cutting-edge Chromebook for $275 or an additional $50/month for 6 months
Whichever hardware you use, you will get not only our powerful salon features, but also our customer engagement tools and the ability to accept credit card payments with industry-low rates and no hidden fees or long-term commitment. Best of all, you can access all of it from one virtual dashboard to save time, boost efficiency, and accelerate your earnings.